How to Model a Rich Blog Post
This article describes how to create a custom type for inspiring blog posts for your e-commerce website. Creating a blog post for e-commerce websites is crucial, as it helps you to climb the search rankings, expand your product descriptions, and boost conversion rates.
Page structure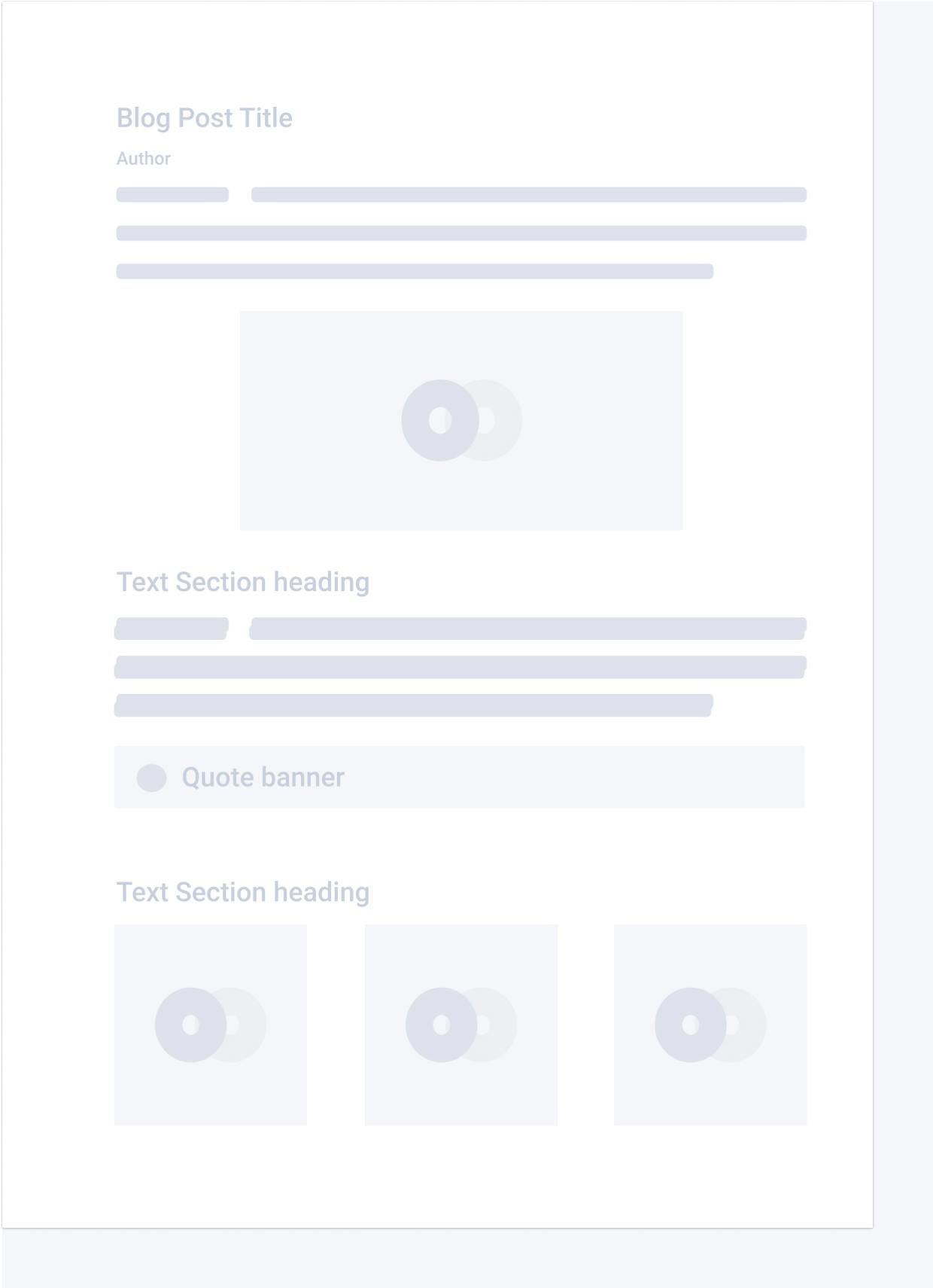 We'd recommend creating a static zone for fields that should always be there (like blog titles, header image, author names).
Title field with H2, H3 tags
Content relationship field to the Authors custom type
1 of 5
This is your Slice zone with different sections. First section is this piece of text which will be a Slice, so that editors will be able to move it around.
2 of 5
Creating a separate slice for images would allow editors to insert the image wherever they want. Make sure to create responsive views for your mobile visitors.
In the non-repeatable zone:
In the repeatable zone:
Image field
Rich text field for image caption
3 of 5
Adding a quote is a great way to break your blog post into different sections and it will make your article look more interesting and engaging.
In the non-repeatable zone:
Rich text field for the Quote
Text field for the quote author
Image field for your author's picture
4 of 5
At the end of the blog post, you can create an image gallery Slice of featured products or link to your product catalog with our Integration Fields feature
In the repeatable zone:
Integration Fields (activated upon request)
5 of 5
More information on Integration Fields feature. You can reach out through the chat to get it activated on your repo.
How to set it up in Prismic
Set up a new repeatable Custom Type
Copy the JSON below and paste it under the JSON editor of this new custom type
Copy
Expand/Collapse
{
  "Main": {
    "title": {
      "type": "StructuredText",
      "config": {
        "single": "heading2, heading3",
        "label": "Title",
        "placeholder": "Select your title"
      }
    },
    "author": {
      "type": "Text",
      "config": {
        "label": "Author",
        "placeholder": "Type authors name"
      }
    },
    "body": {
      "type": "Slices",
      "fieldset": "Slice zone",
      "config": {
        "labels": {
          "image_gallery": [],
          "image": []
        },
        "choices": {
          "quote": {
            "type": "Slice",
            "fieldset": "Quote",
            "description": "A short quote with author's portrait",
            "icon": "add_alert",
            "non-repeat": {
              "quote": {
                "type": "StructuredText",
                "config": {
                  "single": "em",
                  "label": "Quote",
                  "placeholder": "Your quote"
                }
              },
              "name_of_the_author": {
                "type": "StructuredText",
                "config": {
                  "multi": "paragraph",
                  "label": "Name of the author",
                  "placeholder": "John Doe"
                }
              },
              "portrait_author": {
                "type": "Image",
                "config": {
                  "constraint": {
                    "width": 700,
                    "height": 700
                  },
                  "thumbnails": [
                    {
                      "name": "mobile",
                      "width": 350,
                      "height": 350
                    }
                  ],
                  "label": "Portrait Author"
                }
              }
            },
            "repeat": {},
            "display": "list"
          },
          "text": {
            "type": "Slice",
            "fieldset": "Text",
            "description": "Rich Text Section",
            "icon": "text_fields",
            "non-repeat": {
              "text": {
                "type": "StructuredText",
                "config": {
                  "multi": "paragraph, preformatted, heading1, heading2, heading3, heading4, heading5, heading6, strong, em, hyperlink, image, embed, list-item, o-list-item, o-list-item",
                  "label": "text",
                  "placeholder": "Your content here"
                }
              }
            },
            "repeat": {}
          },
          "image_gallery": {
            "type": "Slice",
            "fieldset": "Image Gallery",
            "description": "Image Gallery with a title",
            "icon": "photo_library",
            "non-repeat": {
              "name_of_the_gallery": {
                "type": "StructuredText",
                "config": {
                  "single": "heading2",
                  "label": "Name of the gallery",
                  "placeholder": "My beautiful paintings"
                }
              }
            },
            "repeat": {
              "image_captions": {
                "type": "StructuredText",
                "config": {
                  "multi": "paragraph",
                  "label": "Image captions",
                  "placeholder": "Images captions"
                }
              },
              "gallery_image": {
                "type": "Image",
                "config": {
                  "constraint": {
                    "width": null,
                    "height": null
                  },
                  "thumbnails": [],
                  "label": "Gallery Image"
                }
              }
            },
            "display": "list"
          },
          "image": {
            "type": "Slice",
            "fieldset": "Image",
            "description": "Single image ",
            "icon": "image",
            "display": "grid",
            "non-repeat": {
              "image": {
                "type": "Image",
                "config": {
                  "constraint": {},
                  "thumbnails": [
                    {
                      "name": "Mobile",
                      "width": 409,
                      "height": 700
                    }
                  ],
                  "label": "Image"
                }
              }
            },
            "repeat": {}
          }
        }
      }
    }
  },
  "SEO&Social": {
    "uid": {
      "type": "UID",
      "config": {
        "label": "Slug",
        "placeholder": "Type your slug URL"
      }
    },
    "display_name": {
      "type": "Text",
      "config": {
        "label": "Display name",
        "placeholder": "Display name"
      }
    },
    "meta_title": {
      "type": "Text",
      "config": {
        "label": "Meta title",
        "placeholder": "Meta title"
      }
    },
    "meta_description": {
      "type": "Text",
      "config": {
        "label": "Meta description",
        "placeholder": "Meta description"
      }
    },
    "body1": {
      "type": "Slices",
      "fieldset": "Slice zone",
      "config": {
        "labels": {},
        "choices": {
          "twitter_card": {
            "type": "Slice",
            "fieldset": "Twitter Card",
            "description": "Fields to customize Twitter Card (Summary Card with Large Image)",
            "icon": "credit_card",
            "display": "list",
            "non-repeat": {
              "twitter_title": {
                "type": "StructuredText",
                "config": {
                  "single": "paragraph",
                  "label": "Title",
                  "placeholder": "Title for Twitter Card"
                }
              },
              "twitter_description": {
                "type": "StructuredText",
                "config": {
                  "single": "paragraph",
                  "label": "Description",
                  "placeholder": "Description for Twitter Card"
                }
              },
              "twitter_image": {
                "type": "Image",
                "config": {
                  "constraint": {
                    "width": 1200,
                    "height": 675
                  },
                  "thumbnails": [],
                  "label": "Image"
                }
              }
            },
            "repeat": {}
          },
          "open_graph": {
            "type": "Slice",
            "fieldset": "Open Graph",
            "description": "Fields to customize Open Graph",
            "icon": "thumb_up",
            "display": "list",
            "non-repeat": {
              "og_title": {
                "type": "StructuredText",
                "config": {
                  "single": "paragraph",
                  "label": "Title",
                  "placeholder": "Title for Open Graph"
                }
              },
              "og_description": {
                "type": "StructuredText",
                "config": {
                  "single": "paragraph",
                  "label": "Description",
                  "placeholder": "Description for Open Graph"
                }
              },
              "og_image": {
                "type": "Image",
                "config": {
                  "constraint": {
                    "width": 1200,
                    "height": 628
                  },
                  "thumbnails": [],
                  "label": "Image"
                }
              }
            },
            "repeat": {}
          }
        }
      }
    }
  }
}
What editors will see
How to model content for your project
Sarah will be glad to help you come up with a solid content model for your project. (It's free.)
Schedule a call