How to Model a Homepage for your Portfolio
This article describes how to create a custom type for a rich homepage for your personal portfolio website. Creating a personal website that showcases your skills, areas of expertise, and past projects is crucial for your online presence, as it helps you to climb the search rankings, increase your online visibility, and find new prospects and clients for your freelance or artistic activities.
Page structure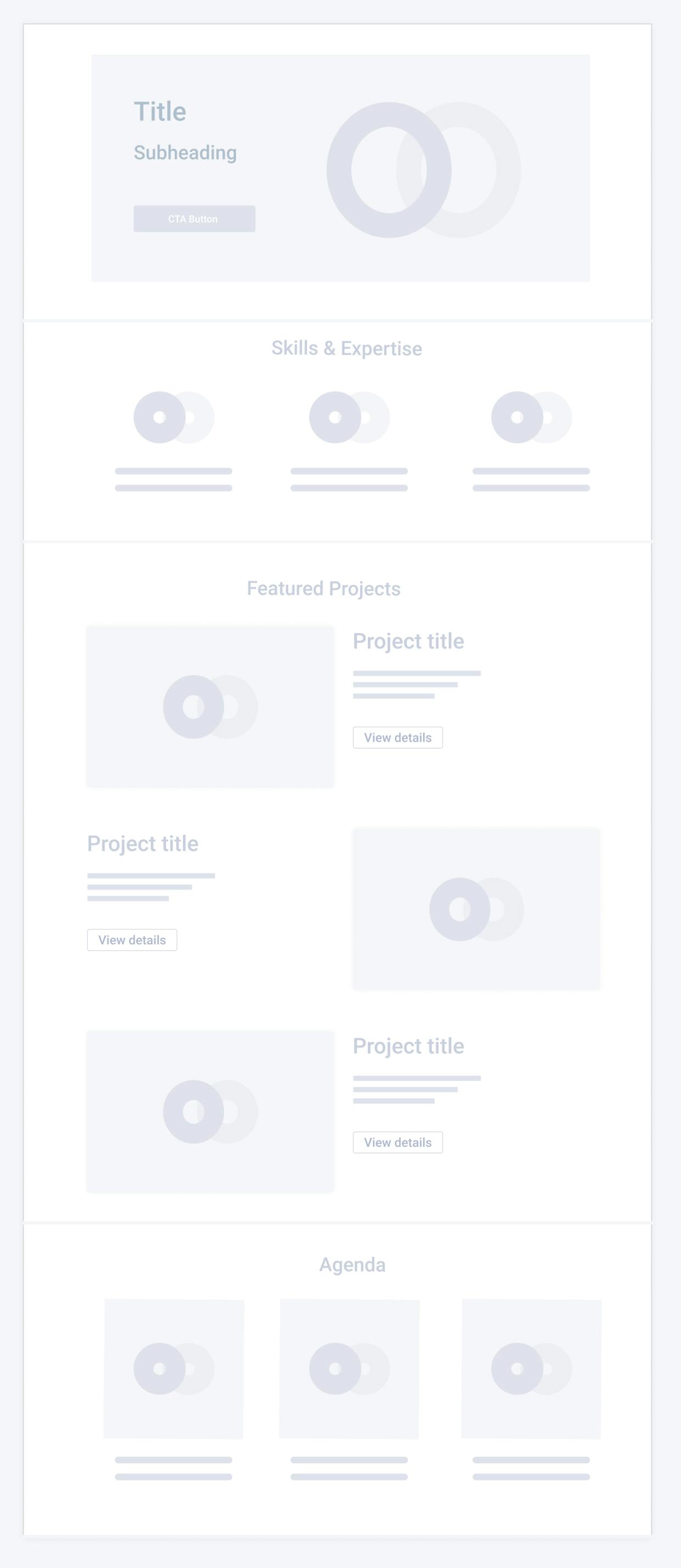 We'd recommend creating a static zone for fields that should always be there (like hero banner titles, header image, author names).
Title field with H1 tags
An Image field for the hero banner main image
A Rich Text field for the main banner subheading
A Key Text field and a Link or Content Relationship field for your call-to-action

1 of 4
This is your Slice zone with different sections. First section is this slider of your personal skills and expertise which will be a Slice, so that editors will be able to move it around.
In the non-repeatable zone:
Title field with H2 tag for the component title
In the repeatable zone:
Image field for a pictogram
Rich text field for a short description
2 of 4
This second Slice will allow you to highlight the different projects that you have worked on and produced in the past.
In the non-repeatable zone:
Title field with H2 tag for the component title
In the repeatable zone:
Content Relationship field to attach the corresponding project
Image field
Rich text field for a short description of the project
A select field with 2 options for image alignment (left or right)
3 of 4
You can create a Slice that will show the next events or exhibitions that you will attend for your audience and future clients to meet you in person
In the non-repeatable zone:
Title field with H2 tag for the component title
In the repeatable zone:
Content Relationship field to attach the corresponding event
Image field
Rich text field for a short description of the event
4 of 4
How to set it up in Prismic
Set up a new repeatable Custom Type
Copy the JSON below and paste it under the JSON editor of this new custom type
Copy
Expand/Collapse
{
  "Main": {
    "title": {
      "type": "StructuredText",
      "config": {
        "single": "heading1",
        "label": "title",
        "placeholder": "Home page title"
      }
    },
    "hero_image": {
      "type": "Image",
      "config": {
        "constraint": {
          "width": null,
          "height": null
        },
        "thumbnails": [
          {
            "name": "large",
            "width": 1600,
            "height": 850
          },
          {
            "name": "medium",
            "width": 1200,
            "height": 638
          },
          {
            "name": "small",
            "width": 800,
            "height": 425
          }
        ],
        "label": "Hero image"
      }
    },
    "subheading": {
      "type": "StructuredText",
      "config": {
        "single": "paragraph, heading2, strong, em, hyperlink",
        "allowTargetBlank": true,
        "label": "Subheading",
        "placeholder": "Homepage Subheading"
      }
    },
    "cta_label": {
      "type": "Text",
      "config": {
        "label": "CTA label",
        "placeholder": "Enter CTA label here"
      }
    },
    "cta_link": {
      "type": "Link",
      "config": {
        "label": "CTA Link"
      }
    },
    "body": {
      "type": "Slices",
      "fieldset": "Slice zone",
      "config": {
        "labels": {
          "featured_projects": [],
          "agenda": [],
          "skills_expertise": []
        },
        "choices": {
          "skills_expertise": {
            "type": "Slice",
            "fieldset": "Skills & Expertise section",
            "description": "A section to list your skills and fields of expertise",
            "icon": "format_list_bulleted",
            "display": "grid",
            "non-repeat": {
              "skills_title": {
                "type": "StructuredText",
                "config": {
                  "single": "heading2, heading3, heading4, heading5, heading6",
                  "label": "Skills title",
                  "placeholder": "Enter section title"
                }
              }
            },
            "repeat": {
              "skill_picto": {
                "type": "Image",
                "config": {
                  "constraint": {},
                  "thumbnails": [],
                  "label": "Skill picto"
                }
              },
              "skill_name": {
                "type": "StructuredText",
                "config": {
                  "single": "heading3",
                  "label": "Skill name",
                  "placeholder": "Enter skill name here"
                }
              },
              "skill_text": {
                "type": "StructuredText",
                "config": {
                  "multi": "paragraph, strong, em, hyperlink, list-item, o-list-item",
                  "allowTargetBlank": true,
                  "label": "Skill text",
                  "placeholder": "Enter skill text here"
                }
              }
            }
          },
          "featured_projects": {
            "type": "Slice",
            "fieldset": "Featured projects",
            "description": "A selection of featured projects",
            "icon": "grade",
            "display": "list",
            "non-repeat": {
              "featured_projects_title": {
                "type": "StructuredText",
                "config": {
                  "single": "heading2",
                  "label": "Featured projects title",
                  "placeholder": "Enter section title"
                }
              }
            },
            "repeat": {
              "featured_project_thumbnail": {
                "type": "Image",
                "config": {
                  "constraint": {},
                  "thumbnails": [],
                  "label": "Featured project thumbnail"
                }
              },
              "featured_project": {
                "type": "Link",
                "config": {
                  "select": "document",
                  "customtypes": [
                    "project",
                    "portfolio_project"
                  ],
                  "label": "Featured project",
                  "placeholder": "Select a project that you want to get featured"
                }
              },
              "featured_project_description": {
                "type": "StructuredText",
                "config": {
                  "multi": "paragraph, strong, em, hyperlink",
                  "allowTargetBlank": true,
                  "label": "featured project description",
                  "placeholder": "Enter project snippet description here"
                }
              },
              "alignment": {
                "type": "Select",
                "config": {
                  "options": [
                    "Image Left",
                    "Image Right"
                  ],
                  "label": "Alignment",
                  "placeholder": "Select a layout option"
                }
              }
            }
          },
          "agenda": {
            "type": "Slice",
            "fieldset": "Agenda",
            "description": "A list of events that you will attend",
            "icon": "date_range",
            "display": "list",
            "non-repeat": {
              "agenda_section_title": {
                "type": "StructuredText",
                "config": {
                  "single": "heading2",
                  "label": "Agenda section title",
                  "placeholder": "Enter section title"
                }
              }
            },
            "repeat": {
              "event_image": {
                "type": "Image",
                "config": {
                  "constraint": {},
                  "thumbnails": [],
                  "label": "Event image"
                }
              },
              "featured_event": {
                "type": "Link",
                "config": {
                  "select": "document",
                  "customtypes": [
                    "portfolio_author_events"
                  ],
                  "label": "Featured event",
                  "placeholder": "Select an event from your list"
                }
              },
              "featured_event_description": {
                "type": "StructuredText",
                "config": {
                  "multi": "paragraph, strong, em, hyperlink",
                  "allowTargetBlank": true,
                  "label": "featured event description",
                  "placeholder": "Enter event snippet description here"
                }
              }
            }
          }
        }
      }
    }
  }
}
What editors will see
How to model content for your project
Sarah will be glad to help you come up with a solid content model for your project. (It's free.)
Schedule a call