Having a useful and expansive FAQ page is essential for any website. It drastically improves SEO and user-experience of your visitors. In this guide, we are going to showcase how to model a custom type for the FAQ page.
Page Structure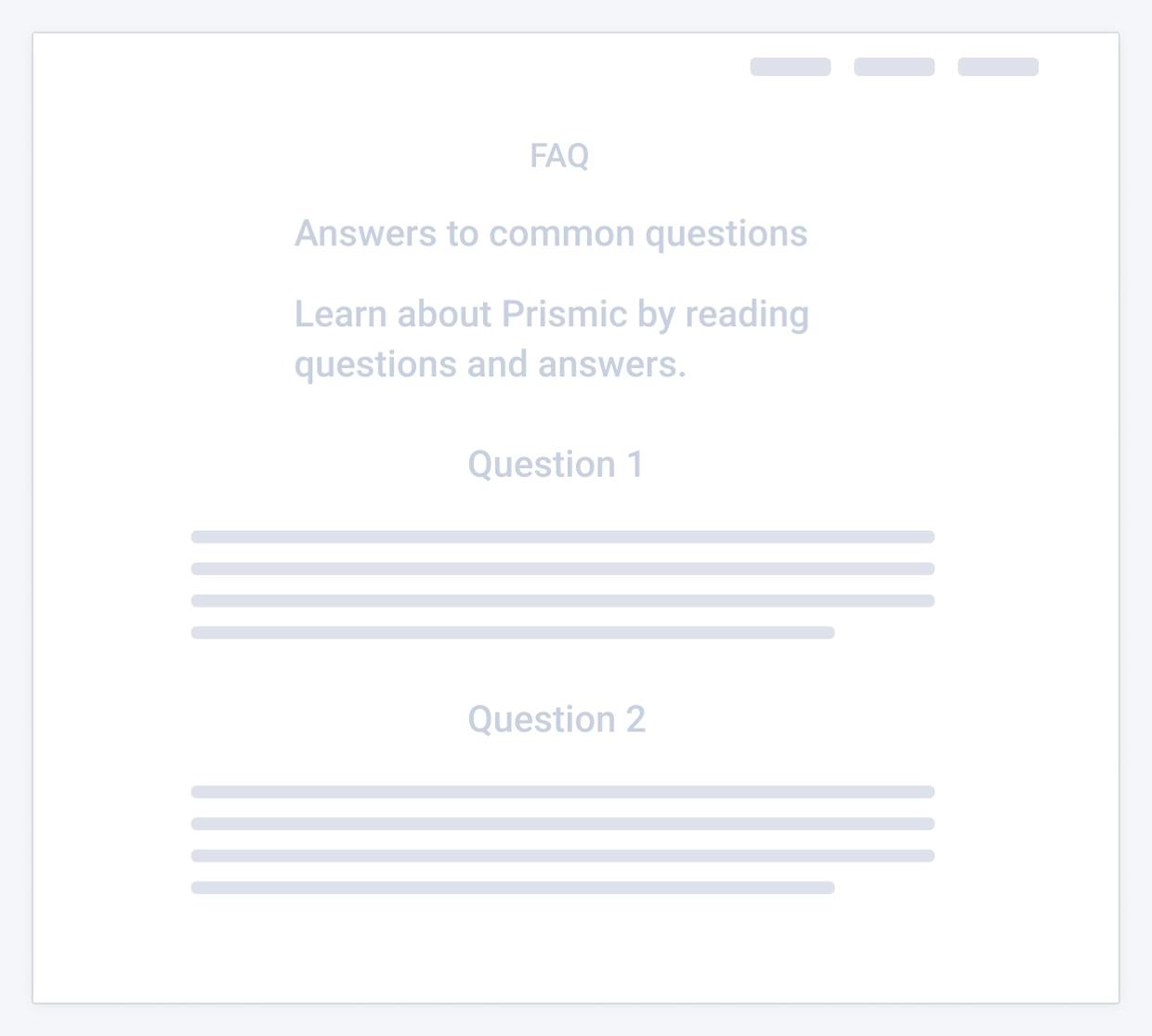 All fields in the FAQ custom type are static, therefore each field will be handled outside the Slice Zone.
Rich Text - set to paragraph formatting option for the eyebrow headliner
Title - set to h2 for the section's title
Rich Text - for the FAQ's section description
1 of 2
This section will be used to display the Q&As on the page.
Title - set to h3 for the title of the question
Rich Text - with multiple formatting options to handle answers.
Both these fields are configured inside the Group field. It would allow you to create as many entries as you need.
2 of 2
Note: If you want to use FAQ section as a dynamic component, you can configure it as a Slice and add respective fields in the repeatable and non-repeatable zone.
How to set it up in Prismic
Create a new repeatable or single custom type
Copy the JSON below and paste it under the JSON editor of this new custom type
Copy
Expand/Collapse
{
  "Main": {
    "eyebrow_headline": {
      "type": "StructuredText",
      "config": {
        "single": "paragraph",
        "label": "Eyebrow headline",
        "placeholder": "Reinforce your copy with a key-worded text, to be displayed before title"
      }
    },
    "title": {
      "type": "StructuredText",
      "config": {
        "single": "heading2",
        "label": "title",
        "placeholder": "Title"
      }
    },
    "description": {
      "type": "StructuredText",
      "config": {
        "multi": "paragraph, strong, em, hyperlink",
        "allowTargetBlank": true,
        "label": "Description"
      }
    },
    "group_faq": {
      "type": "Group",
      "config": {
        "fields": {
          "title_faq": {
            "type": "StructuredText",
            "config": {
              "single": "heading1, heading2, heading3, heading4, heading5, heading6",
              "label": "Title FAQ",
              "placeholder": "Which browsers do you support?"
            }
          },
          "text": {
            "type": "StructuredText",
            "config": {
              "multi": "paragraph, preformatted, strong, em, hyperlink, list-item, o-list-item",
              "allowTargetBlank": true,
              "label": "Text",
              "placeholder": "The answer to the question"
            }
          }
        },
        "label": "Group FAQ"
      }
    }
  },
  "SEO & Social": {
    "uid": {
      "type": "UID",
      "config": {
        "label": "UID",
        "placeholder": "Slug"
      }
    },
    "meta_title": {
      "type": "Text",
      "config": {
        "label": "Meta title",
        "placeholder": "Meta title"
      }
    },
    "meta_description": {
      "type": "Text",
      "config": {
        "label": "Meta description",
        "placeholder": "Meta description"
      }
    },
    "body1": {
      "type": "Slices",
      "fieldset": "Slice zone",
      "config": {
        "labels": {},
        "choices": {
          "twitter_card": {
            "type": "Slice",
            "fieldset": "Twitter Card",
            "description": "Fields to customize Twitter Card (Summary Card with Large Image)",
            "icon": "credit_card",
            "display": "list",
            "non-repeat": {
              "twitter_title": {
                "type": "StructuredText",
                "config": {
                  "single": "paragraph",
                  "label": "Title",
                  "placeholder": "Title for Twitter Card"
                }
              },
              "twitter_description": {
                "type": "StructuredText",
                "config": {
                  "single": "paragraph",
                  "label": "Description",
                  "placeholder": "Description for Twitter Card"
                }
              },
              "twitter_image": {
                "type": "Image",
                "config": {
                  "constraint": {
                    "width": 1200,
                    "height": 675
                  },
                  "thumbnails": [],
                  "label": "Image"
                }
              }
            },
            "repeat": {}
          },
          "open_graph": {
            "type": "Slice",
            "fieldset": "Open Graph",
            "description": "Fields to customize Open Graph",
            "icon": "thumb_up",
            "display": "list",
            "non-repeat": {
              "og_title": {
                "type": "StructuredText",
                "config": {
                  "single": "paragraph",
                  "label": "Title",
                  "placeholder": "Title for Open Graph"
                }
              },
              "og_description": {
                "type": "StructuredText",
                "config": {
                  "single": "paragraph",
                  "label": "Description",
                  "placeholder": "Description for Open Graph"
                }
              },
              "og_image": {
                "type": "Image",
                "config": {
                  "constraint": {
                    "width": 1200,
                    "height": 628
                  },
                  "thumbnails": [],
                  "label": "Image"
                }
              }
            },
            "repeat": {}
          }
        }
      }
    }
  }
}
What editors will see
How to model content for your project
Sarah will be glad to help you come up with a solid content model for your project. (It's free.)
Schedule a call