How to Model an E-commerce Inspirational Page
Inspirational content is widely used on e-commerce sites to promote products and enhance SEO. This example uses an Integration Field for content editors to pick product data from any external system. You can learn more about Integration Fields here.
Page structure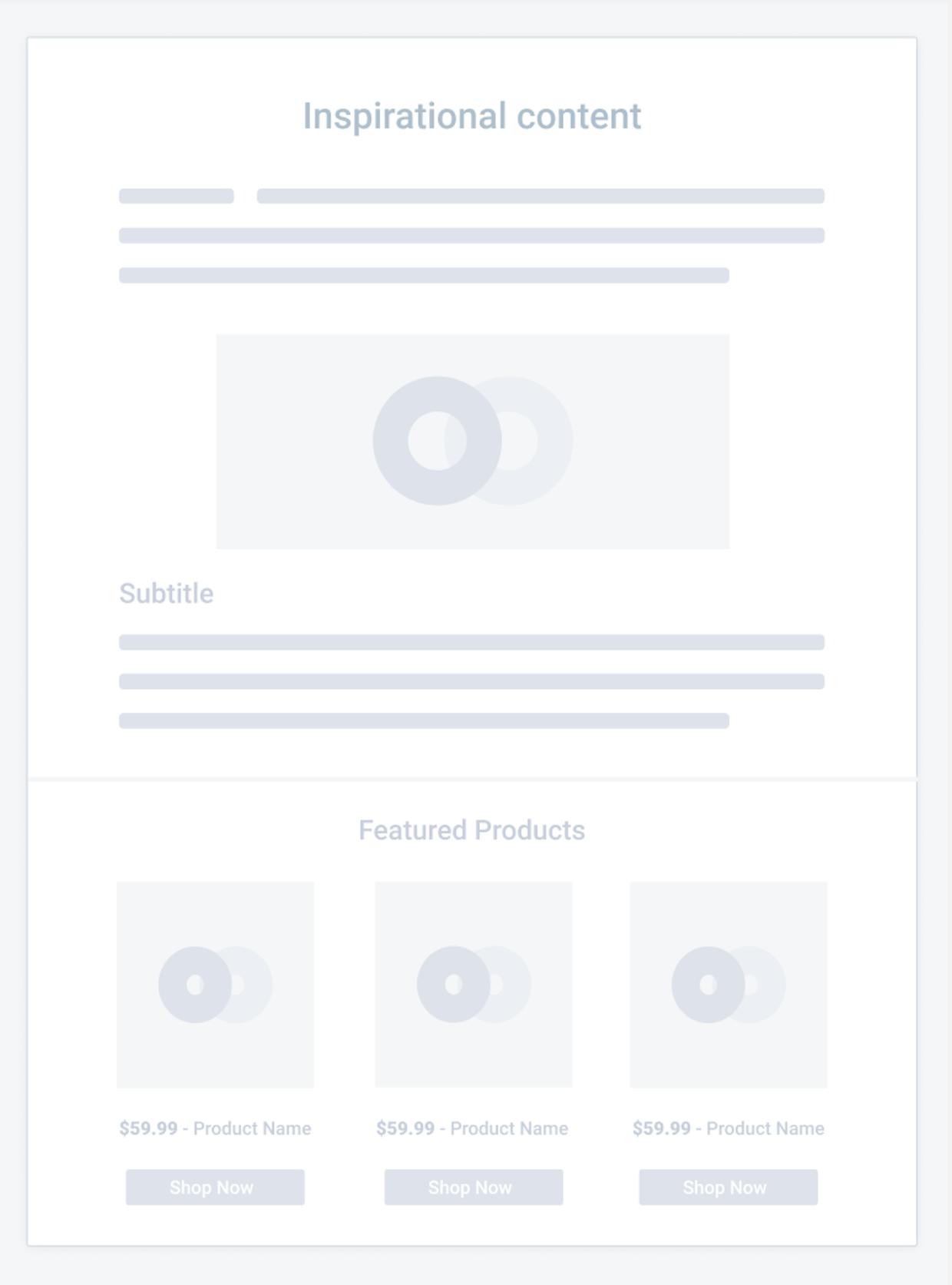 Our inspiration page template has a fixed header with a Title and a short introduction.
We will then configure two fields in the fixed part of the custom type:
Title field for the Inspiration Page title
Rich text field for the short introduction paragraph, restricted to "p"
1 of 3
After the fixed header, we want content editors to build a story by choosing content components of their choice. We'll then enable the "Slice zone" and configure some Slices.
For this first editorial Slice, we'll configure two fields in the non-repeatable zone:
Image field for the image
Rich Text field for the text, restricted to "h2" to allow editors to add headings, and "p" for plain paragraph text
2 of 3
The products links, images, prices and names will come directly from your product catalog through an Integration Field. The CTA value of each product will be managed with a Key Text field.
3 of 3
How to set it up in Prismic
Set up a new repeatable Custom Type
Copy the JSON below and paste it under the JSON editor of this new custom type
You need to have Integration Fields enable on your repository for this JSON to work. This Custom Type definition below uses an Integration Field for pulling and syncing Product data from an external system. To get Integration Fields enabled on your repository, just ask on the chat. Also, in the following example, the "product" Integration Field is pulling data from a demo endpoint. See how to replace this data source with yours in this video.
Copy
Expand/Collapse
{
  "Main" : {
    "title" : {
      "type" : "StructuredText",
      "config" : {
        "single" : "heading1",
        "label" : "Page title",
        "placeholder" : "Title of the page"
      }
    },
    "introduction" : {
      "type" : "StructuredText",
      "config" : {
        "single" : "paragraph",
        "label" : "Short introduction",
        "placeholder" : "Short introduction goes here"
      }
    },
    "body" : {
      "type" : "Slices",
      "fieldset" : "Slice zone",
      "config" : {
        "labels" : {
          "rich_text_slice" : [ ],
          "featured_products_slice" : [ ]
        },
        "choices" : {
          "rich_text_slice" : {
            "type" : "Slice",
            "fieldset" : "Editorial section",
            "description" : "An editorial section with image and text",
            "icon" : "art_track",
            "display" : "list",
            "non-repeat" : {
              "image" : {
                "type" : "Image",
                "config" : {
                  "constraint" : { },
                  "thumbnails" : [ ],
                  "label" : "Image"
                }
              },
              "text" : {
                "type" : "StructuredText",
                "config" : {
                  "multi" : "paragraph, heading2",
                  "label" : "Text",
                  "placeholder" : "Tell your story here..."
                }
              }
            },
            "repeat" : { }
          },
          "featured_products_slice" : {
            "type" : "Slice",
            "fieldset" : "Featured products slice",
            "description" : "Featured products from you ecommerce product catalog",
            "icon" : "attach_money",
            "display" : "grid",
            "non-repeat" : {
              "section_title" : {
                "type" : "StructuredText",
                "config" : {
                  "single" : "heading2",
                  "label" : "Section title",
                  "placeholder" : "Title of your section"
                }
              }
            },
            "repeat" : {
              "product" : {
                "type" : "IntegrationFields",
                "config" : {
                  "catalog" : "content-modelling-samples--products",
                  "label" : "Product",
                  "placeholder" : "Product"
                }
              },
              "cta_text" : {
                "type" : "Text",
                "config" : {
                  "label" : "CTA Text",
                  "placeholder" : "Text of your product CTA"
                }
              }
            }
          }
        }
      }
    }
  }
}
What editors will see
How to model content for your project
Sarah will be glad to help you come up with a solid content model for your project. (It's free.)
Schedule a call