How to Model a Careers Page
Page structure
The careers page on a website is very dynamic because of the diversity and ever-changing availability of positions that can be listed. By configuring a template for your careers page, you can make the process of updating your listings more efficient.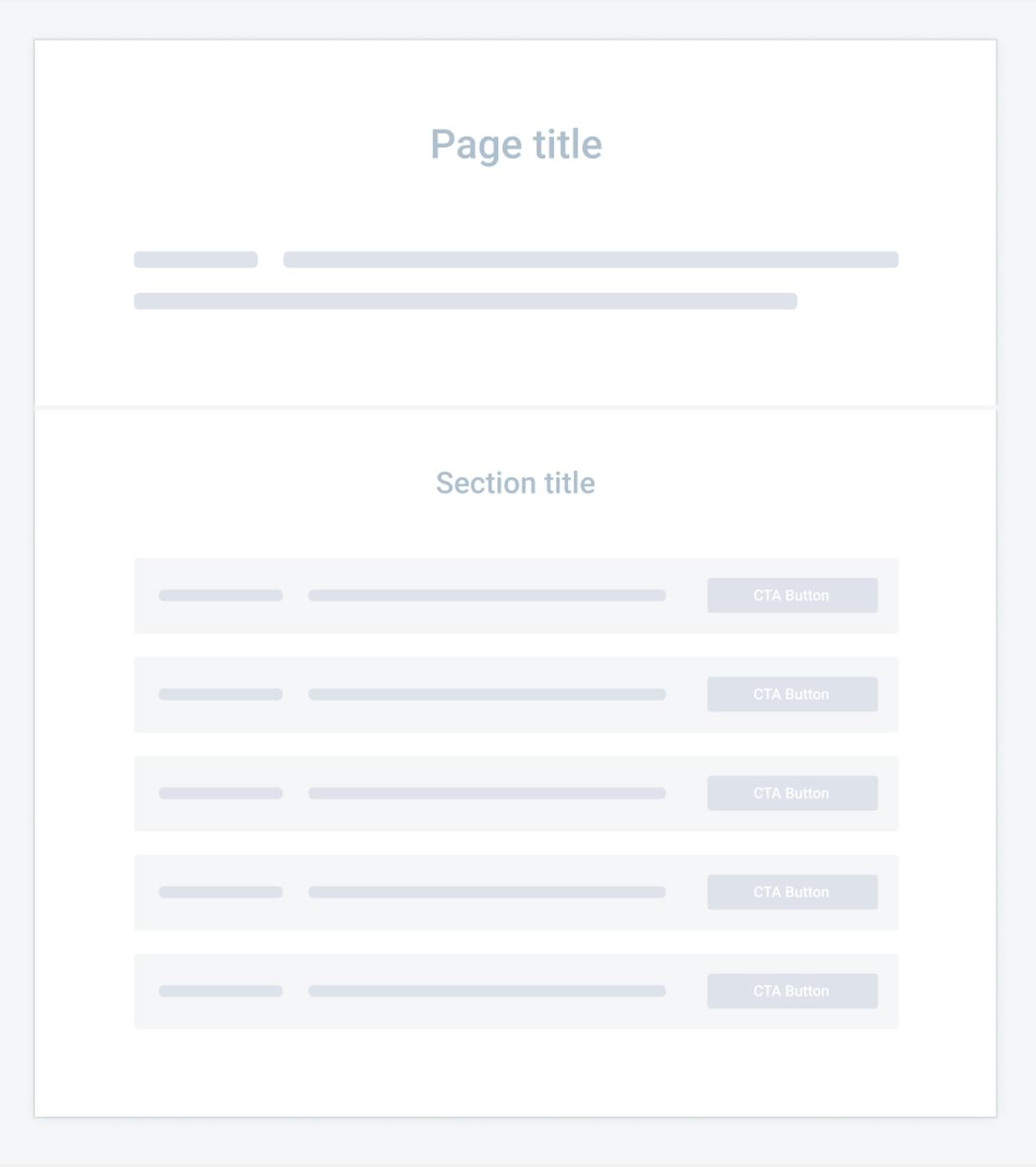 This will be the first section of your page dedicated to the Page title, followed by a text section to include the introduction of the page. We call this section static since it won't be moved lower in this page. It consists of:
A Title field fixed to H1, for the careers' page title.
A Rich text field for the introductory text.

1 of 2
This Slice is dedicated to preview the highlights of the job post. It consists of:
In the non-repeatable zone:
A Title field fixed to H2, for the section's title.
In the repeatable zone:
A Key text field for the "call-to-action" label
A Content Relationship field to link to the job announcement to its respective document in Prismic.
2 of 2
How to set it up in Prismic
Create a new non-repeatable Custom Type
Copy the JSON below and paste it under the "JSON Editor" of this new Custom Type
Copy
Expand/Collapse
{
  "Main": {
    "uid": {
      "type": "UID",
      "config": {
        "label": "UID",
        "placeholder": "UID"
      }
    },
    "page_title": {
      "type": "StructuredText",
      "config": {
        "single": "heading1",
        "label": "Page Title",
        "placeholder": "Page Title"
      }
    },
    "description": {
      "type": "StructuredText",
      "config": {
        "multi": "paragraph, preformatted, heading1, heading2, heading3, heading4, heading5, heading6, strong, em, hyperlink, image, embed, list-item, o-list-item, rtl",
        "allowTargetBlank": true,
        "label": "description",
        "placeholder": "description"
      }
    },
    "body": {
      "type": "Slices",
      "fieldset": "Slice zone",
      "config": {
        "labels": {
          "listings": [
            {
              "name": "grid_view",
              "display": "Grid view"
            },
            {
              "name": "list_view",
              "display": "List view"
            }
          ]
        },
        "choices": {
          "listings": {
            "type": "Slice",
            "fieldset": "Listings",
            "description": "Listings",
            "icon": "face",
            "display": "grid",
            "non-repeat": {
              "section_title": {
                "type": "StructuredText",
                "config": {
                  "single": "heading2",
                  "label": "Section title",
                  "placeholder": "Insert title here"
                }
              }
            },
            "repeat": {
              "cta": {
                "type": "Text",
                "config": {
                  "label": "CTA",
                  "placeholder": "CTA"
                }
              },
              "link_to_jobs_page": {
                "type": "Link",
                "config": {
                  "select": "document",
                  "label": "link to jobs page",
                  "placeholder": "link to jobs page"
                }
              }
            }
          }
        }
      }
    }
  }
}
What editors will see
How to model content for your project
Sarah will be glad to help you come up with a solid content model for your project. (It's free.)
Schedule a call